Press Release</div>
Eindhoven / Arnhem, March 21, 2019 - SyncForce and Eclarion join forces. An integration between both software packages ensures that SyncForce customers can use the functionality of Eclarion and vice versa. Food manufacturers therefore have one system for managing recipes and product specifications.
SyncForce provides software for central management and sharing of product information, Eclarion specialises in recipe management.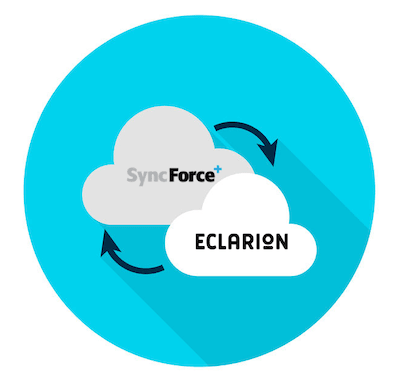 Integration allows both software vendors to support manufacturers throughout the full life cycle of a product, including:
Collecting raw materials from suppliers;
Developing and calculating Recipes;
Finalizing products and record final product specifications;
Enrich product specifications with commercial information such as marketing texts, images and translations;
Easily share digital product information in all external channels, towards customers and data pools.
"Many Food manufacturers use Eclarion to manage the recipes of their products. Thanks to integration with SyncForce, they can ensure that all product information is shared with a single click with different external systems and channels. The link between our solutions is actually very obvious. Together, we offer the first full integrated SaaS ecosystem for food manufacturers. This allows our users to work more efficiently and reduce the time-to-market of new products. The integration also reduces errors in "manual retyping" of data, which significantly reduces the likelihood of recalls and fines." Hans van den Berg, Partner Manager of SyncForce
About SyncForce SyncForce, founded in 1999, is a provider of software that connects product development with the distribution of product information. With the SyncForce Product Success Platform, food manufacturers can accelerate product development through better communication. In addition, SyncForce improves digital availability by allowing product information to be distributed to all customers and channels at the touch of a button. The out-of-the-box SyncForce SaaS platform is continuously improved and expanded on the basis of intensive cooperation with the market.
SyncForce users include Bieze Food Group, Farm Frites, FrieslandCampina, Hero, JDE, Lamb Weston, TerBeke, Van Geloven and Zwanenberg Food Group.
"We always strive to provide high-quality solutions together with partners. That's why the cooperation between Eclarion and SyncForce is so important to us. It's a win-win situation; Eclarion users gain access to the SyncForce platform and are thus able to publish recipe information from Eclarion via different channels. SyncForce users can also use Eclarion to further professionally develop recipe management and product development." Wietse van den Brink, managing director and founder of Eclarion
About Eclarion Eclarion has been providing smart recipe management software since 2001.
Together with more than 150 quality professionals, we improve the ultimate tool for managing recipes on a daily basis.
Resulting in: Simple step-by-step solution to follow the path from raw material to final product. Thorough and practice-oriented. Eclarion has become an indispensable tool for the quality department.
Eclarion users include Tony's Chocolonely, Bieze Food Group, Koninklijke Vezet, Huuskes, BRF, Concorp, Koninklijke ERU and Westland Kaas Groep.